Extra! Extra! Read all about it… Win a lot and EA ezGor on the loose!!
Ok… lousy opening… but one just try to make it interesting no??
Anyway… finally… after days of testing and re testing I got some results out… Some EA can be really difficult to backtest you know. Some are pretty easy. Don't know if it's the coding or not… but Winalot and especially EAezGor took like forever to complete some backtest…
I wanted to stretch the backtest from 1999 but somehow or rather… my MT4 crashed….  I think this is because I was backtesting on my laptop and not on my PC. Yeah I know these sort of backtesting exercise should be done on the PC rather than a laptop but because I am constantly on the go, I work on a laptop more rather than a desktop. If it was a desktop while it is good, I have to run back and forth to test it and check if it's done or not. blah blah blah…
Enough about my problems…
Let's get down to some juicy part of this post shall we?
As usual I would run back testing since 2008… for both these two EA and below are the results (Click on graph to view statement)

For EAezGor… I did only 2009 because it took so long … (Warning: the backtesting results file is pretty big for only 2009 results)

Winalot is more or less a scalping EA… OR rather a short term EA whereas EAezGor is a long term EA. Now I do not have much information or it's origin of Winalot… Only that the author name it Winalot because it Win A Lot Of trades… but EAezGor if no one is familiar with it (unless you have read the author's website) is that… This EA models upon the ATC (Automatic Trading Championship 2008) EA Gorez which came in 4th position.
Now by model I don't mean scam, reverse engineered and what not… (I will leave it to everyone's own opinion about this) By model the author mentioned that he tried to look at the trading an and emulate it. I am not sure if he succeeded but from the backtesting results I guess he manage to work work something on it.
Hmm.. I do not think that there is a free or commercial version on EA Gorez… So I guess his version is pretty much his own… Not sure what parameter he uses but this is a long term EA.
Anyway the idea here is not to scrutinize the origin of the EA… but the idea here is to look at the backtesting results no? Oh well… maybe later we speculate on the origin of the EA…
For now… both these graph provided excellent results. Especially EAezGor… Why? because the risk vs reward ratio is just what every trader are looking for…  the reward out weights the risk… it's not like most EA or rather commercial EA where the risk seems to out weight the reward and the only way to stay profitable is to have more consecutive wins against consecutive losses… but that is the ideal when backtest reflects forward test… unfortunately it doesn't.
Ok.. I am jumping ahead of myself.
Let start with Winalot.
First… I tried from 1999 till May 2009 but my MT4 crashed. And I wasted one day well because I left it overnight since it took quite some time to backtest it… So what I did was cascade by backtest into different periods… 2000 – 2005 and 2005 – 2007. And here are the results…



2005 – 2007



2000 – 2005
Not as impressive as I would hope for… huh… but again… the risk vs reward ratio is far better than most scalping EA… The risk is about 2:1 (meaning you risk 2 dollar to make 1 dollar) compared to scalping EA (you risk 10 dollar to make 1 dollar) so you need to make that 1 dollar 10 times just to break even…
Anyway… this would or might appeal to some people… especially me…
While the profit factor sucks… remember it is only 90% true…
It maybe worst or it maybe good… I don't know until I try it out live… and from the looks of it I might.
Now NEXT comes EAezGor… Now this EA is what has been taking a lot out of my time. It took me like 2 hours just to backtest from 2008 till May 2009. From the graph above it is pretty impressive I would say…
Because of that I tried to take it back till 1999 but again… my MT4 crashed. Another day wasted… So what else, I have to redo this in a cascading manner. Since this backtesting took longer than Winalot… I had to use a shorter time period… And I only manage to do it from 2005 to 2008. Wanted to do since 2000 but by the time that backtesting was done… and the graph was produce. I kinda lost my mood and enthusiasm.
Below are the result… (Again the backtesting statement file is a bit huge especially from 2005 to 2007)



2008



2005 – 2007
I don't know about you… but results like this is pretty unmotivating. While the graph looks really sad…
On the other hand, upon examining the results, the interesting part about this EA is also it's risk/reward ratio. I believe I have seen quite a number of backtesting results but non of it has these sort of interesting risk/reward ratio. It is practically 1:2 meaning I risk 1 dollar to make 2 dollar.  Have a look at it and you will see that the reward just outweights the risk. It is true also for 2008 and 2009.
Even with this sort of risk/reward ratio, the graph since 2005 till 2007 is pretty depressing. As usual, these sort of EA do interest me. Hence, it's going live for me…
On a side note, I am beginning to really wonder the real objective about backtesting… ideally with a risk/reward ratio being 2:1, the graph should be on an upward trend, maybe the execution part on the EA is not that efficient or the market is shit at that time or the EA does not past through different market conditions. I don't know… it's just a though
But hey…  I am a gambler… I would rather bet on the 10% with a 2:1 chance rather than than a 90% with a 1:10 chance…. 
but then again… I am also betting on the 90% with a 1:10 chance with scalping EA… hehe
Anyway… just to provide you with more information about this EA.
Apparently… this EA requires a product key to activate the EA. And this EA does actually communicate with an external server house by Easy-EA.com. If it pans out… you will be successfully log in and your EA will work. Even when backtesting the developer says that you need to log in (ie attach the EA to the chart before backtesting) if you one will not get any results.
Now I can verify that because I usually backtest without attaching the EA to the chart. One of the reason why I fumble initially was because I could not get any results until Jeremy (the developer) told me about this.
Also I had problems initially logging in because of my anti-virus software. I tweak my software a bit which allows my computer to log into the server to download some information for the EA to work. Great security feature for an EA if you asked me but it would be a hassle if your Anti virus software blocks all incoming downloads.
I have seen the decompile version of this EA and most of it has already been modified to run around this EA. One thing to note, you can not modify the TP or SL. It is internally build in. Don't know if the server releases the value or it is internally calculated. Did not have time to look deep into the decompile code to find out. Anyway, the decompile version I have was the old version. The one I backtested were the newer version. So codes could have already been changed.
So I am not really sure if there is any work around without any major modification to the EA. I have come across a lot of EA with DLL files and if one were to work around these dll files, one needs to really modify the major part of the EA.
Thus, when you set it to work it might not work as per the original. Don't know… some people say it would work, some people say it won't. Each to it's own.
Now having said that… A demo or trial version would be appropriate to let the user test it out first before buying. One very interesting thing here is that… Easy-EA.com actually charge $20 per month for a trial version.
Now out of curiosity… He mentioned that his EA is pretty tight, security wise and even if one were to decompile his latest version and probably comment out some restriction codes… It will not work. So my question to him was why charge for a trial version when in fact with the product key that would verify with an external server would mean that he would be in total control over the EA?
Here is his reply…
Fair enough…
But here is a though… What if his server crashes, and the EA is not working because one just can not log in? Or what if the developer got kidnapped? What would happen to the EA?
My initial though is that you are not buying into an EA, what you are getting is a license to use this EA… I mean that is how the industry is turning into no? You buy a license for say a year… and then you renew it every year. But with Easy-EA.com… You probably get the license for life until either the EA becomes irrelevant or until the server crash beyond repair or either the developer get's kidnapped.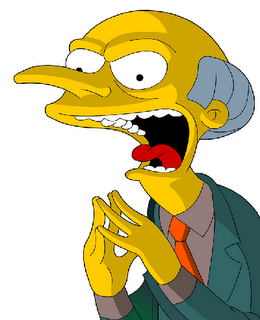 Of course, that latter would not happened… It's just that, one would not be buying into a product and owning it as a whole… Well… I guess if it's that good, it's got to be protected that way.
No two ways around it, since in this industry, espionage is one of the greatest enemy to EA developers.
Whatever or however one wants to conclude with the backtesting results… I'm going in live with these suckers…
Muahahaha… (I just love Mr Burns, don't you?)